Shot list & Narration
Parents help pack last kid for college, cardboard boxes (dolly right to left inside kid's bedroom, boxes stacked on bed, desk, floor. Parents and kid all behind a box, arms moving as they pack it)

As they prepare to send their youngest child off to college, the Kings are also getting ready to embark on their own adventure as empty nesters.

Pack boxes into SUV/uHaul (straight in shot of haul, dad walking left to right from house with box, turns and places it in truck)

They've saved for Julie's tuition, purchased the campus dining plan, and packed her coordinating bedding and shower caddy.

Family pic in front of house/vehicle (family on lawn, uHaul and house in background, they're taking a selfie

Now Julie is all set for the road to success, and so are mom and dad because they have an

Close up of side of back of phone w/ "Universal Life Insurance from Gleaner…" with logo

Indexed universal life insurance plan from Gleaner Life Insurance Society.

Back to #3 - camera flash or see the screen of camera capture image

The permanent coverage means their policy will last their lifetime as long as they keep their policy funded.

Driving (birds eye view of uHaul, camera follows the truck, scenery passes by)

It also builds cash value, which the Kings can use for supplemental retirement income when they're ready.

uHaul pulls into main university entrance (part of the sign reads "flexible payment options")

The flexible premiums offered by the universal plan allow the Kings the option to make lower monthly payments during periods of time when their resources are spread thin

Shot of uHaul parked in front of dorm room building (Parents and kid walking away from truck/camera towards building each holding a cardboard box)

and increase contributions when their finances are more secure. In the meantime, they pay target premiums to keep their cash value well-funded.

Dream transition to Julie riding bike, parents in background

Throughout Julie's childhood, the Kings directed a large portion of their premium to an indexed account, which offered even greater potential for cash value growth when the index performed well, without the risk of losing value if the index performed poorly.

Dream transition out to medium shot of mom carrying box, sad with tear but changes to smile

Now, as they near retirement, they've directed a larger portion of their premium to a fixed account, which earns a competitive, current interest rate with a minimum guarantee.

Inside finished dorm room (all 3 hugging facing camera, room in background)

Knowing they are leaving a financial benefit for their children and planning for their own futures means Steve and Cindy have one less thing to worry about.

Close up of poster/frame with a full family picture (2 more siblings in the shot which is outdoors) on wall with "member-owned, charitable-minded, community-oriented".

They also appreciate that Gleaner is member-owned and charitable-minded. Just by owning a life insurance policy through Gleaner, they are helping to fund volunteer projects in their own community.

Camera slowly zooms in until frame is full screen, then camera pans up which loses the text, then pan down to final community scene)Closing graphic

Find a Gleaner agent online at www.gleanerlife.org to find out more about the flexible options available with indexed universal life insurance.
Voice Over Artist Options
Script
Meet the Walkers. This is Paul and his wife, Mara. They have two kids. They're a busy family, but they all agree Saturday mornings are meant for family time and little league baseball.
While Paul and Mara's days are filled primarily with working and taking care of their little ones, they also like to be prepared.
Should disaster strike, they want to ensure their family and their children's futures will be safe. That's why they have term life insurance from Gleaner Life Insurance Society.
The Walkers dream of the day their mortgage will be paid off and their children are grown, so their main concern today is having protection in place should their family need it, while keeping costs at a minimum.
Term life insurance is temporary; therefore, it's affordable.
Paul and Mara can count on coverage for a set period of time—10, 20, or even 30 years.
They can pay for what they need, when they need it.
In most policies, yearly costs remain the same throughout the entire duration of the policy.
That means the Walkers can rest easy, knowing Gleaner will be there to help them in a crisis. They trust the company that is member-owned and community-oriented. Gleaner not only provides top-quality insurance coverage; it also supports local charities, allowing families like the Walkers to get back to what's most important—like buying a round of snow cones for their favorite winning team.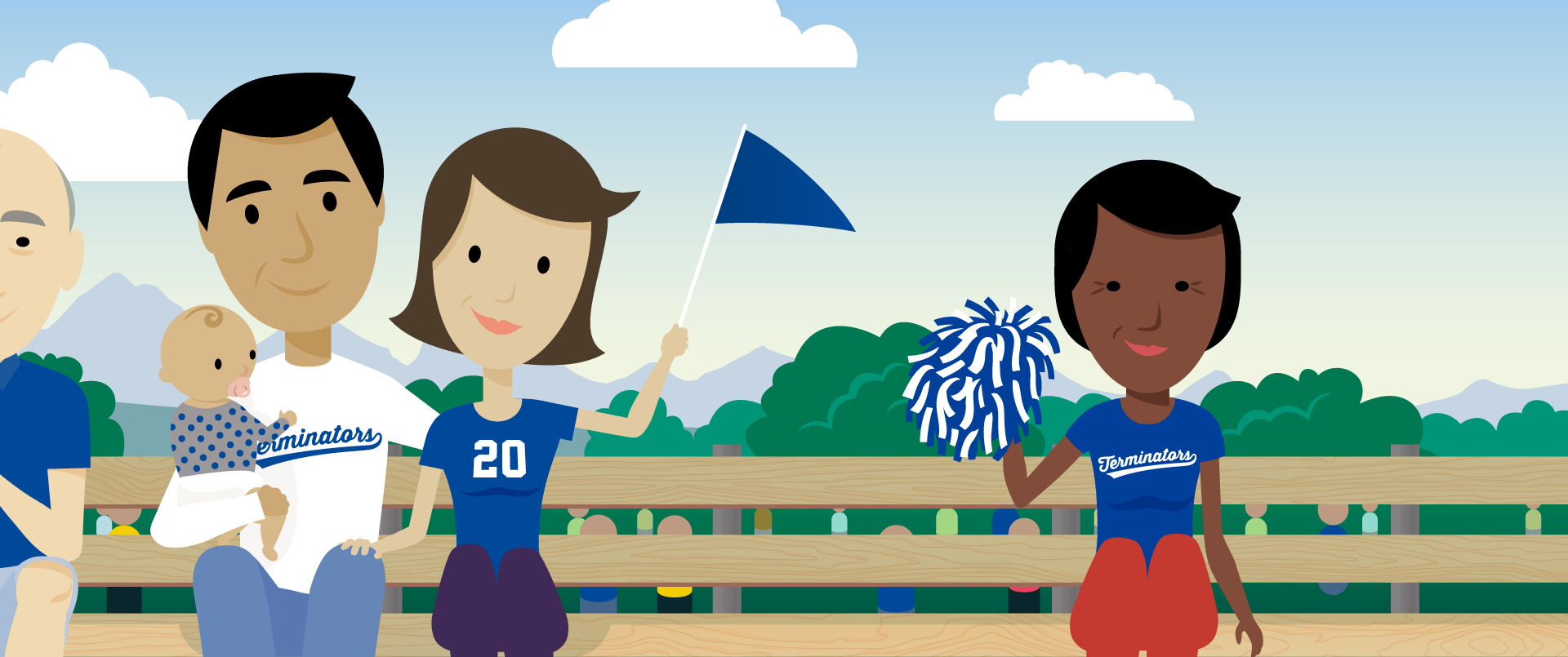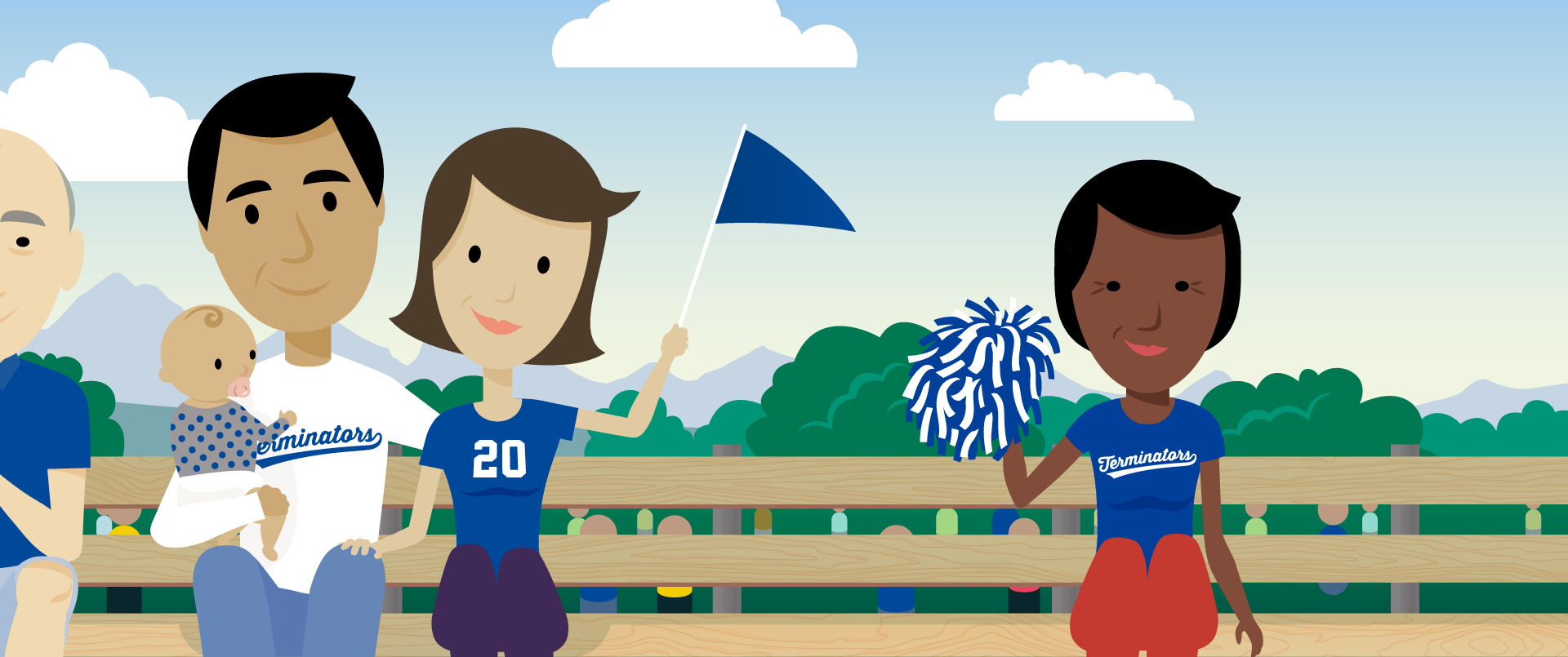 Whole Animation Video
Script
On a quiet stretch of highway, Jack and Ruth cross another state line. Traveling cross country, they find adventure in tiny towns and scenic byways. In the finer details found only off the beaten path.
They know life doesn't come with guarantees. And they want to follow their dreams today without worrying about the security of tomorrow.
That's why they have life insurance-- a whole life policy with Gleaner Life Insurance Society.
Whole life insurance is permanent, so Jack and Ruth can count on policies that will last a lifetime. As long as they pay their premiums on time, their family is guaranteed death benefits at the face amount established at the start of the certificate, regardless of when they die.
This is helpful in estate planning, so Jack and Ruth know their family will benefit from a tax-free inheritance.
Jack and Ruth also enjoy the flexibility of whole life insurance. They can pay for their policy in one lump sum, or opt to pay it out at a fixed rate.
Whole life policies build cash value, which can be accessed any time, for any reason, and are guaranteed to grow each year. This means Jack or Ruth could take out a loan or even make a withdrawal from an ATM should their cross country adventures demand it.
Knowing Gleaner is there to see them through their silver years, Jack and Ruth can enjoy the leisure of a well-lived life. They trust the company that is member-owned and community-oriented. Gleaner not only provides top-quality insurance coverage; it also supports local charities.